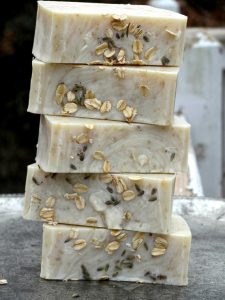 100% Natural Lavender & Oatmeal Soap
Ready to pamper yourself? Let the comforting scent of lavender soothe your spirits while fresh ground oats and natural oils moisturize your skin. The therapeutic scent of lavender is the focal point of this handcrafted soap, though it also contains coconut oil for extra hydration and grape seed oil for vitamin E. The bar itself has been blended with colloidal oatmeal, a time tested remedy for damaged and distressed skin, and the addition of whole ground oats provides gentle exfoliation that won't scratch your skin. This luxurious soap is handmade with all natural ingredients. You will find no harsh chemicals in our artisan soaps. Each bar is 5 oz.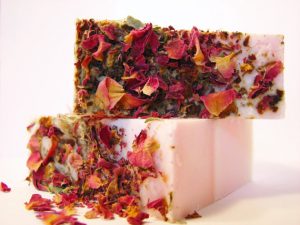 100% Natural Rose & Coconut Milk Soap
There's nothing more romantic than roses. It's time to love yourself and gift your skin with this nourishing blend of rose and coconut milk. This bar is quite soft and has a creamy texture which is enhanced by a decadent rose scent. Dried, crushed rose petals adorn the outside of the bar for additional fragrance as well as gentle exfoliation. Our secret is a touch of jasmine, which adds an extra bit of spice to the bar's scent. You won't regret indulging yourself with our 100% all natural organic soap. Each bar is 5 oz.